Hello! I am jenny at dapperhouse. I am excited to do a beauty guest post for one of my favorite blogs,
Fun Reviews & Giveaways
. In this post I will be helping you learn how to achieve a naturally glamorous look with easy make-up application techniques. The tricks and tips I am going to show you work beautifully for women of any age. They especially work great for women my age (mid 40's) who are wanting to camouflage eye wrinkles. You can use products you already have to achieve a similar look, but here is a generic list of products that you will want to have to follow my tutorial.
Liquid foundation a shade lighter than or matching your skin
Mineral powder foundation matching your skin
Mineral Setting powder, "Veil" or spray
Kabuki brush for powder foundation
Blusher/ bronzer
Blush Brush
White powder for Highlighting
Dark powder for Contouring
Eyeshadow Pallete that you normally use
Brush Applicators for powders and eye shadow
Mascara
Eyeliner
Lipstick
Let's Begin
1.) PREP YOUR SKIN - Before you apply any make-up, your skin should be prepped. This means freshly washed skin, with an application of moisturizer with sunscreen and perhaps corrective creams for acne, wrinkles, and skin tone. I like to use a foundation Primer as well. This type of product will keep your foundation looking fresh for a longer amount of time. 2.) LAY THE FOUNDATION - I like to use liquid foundation for the area around my eyes because it is more moisturizing/less drying than the mineral foundation. For me it goes on smoother in this are and by only using a small amount, the makeup does not get stuck in the creases or wrinkles. I like to use mineral make-up powder foundation for my face because it is easy to work with and has a long lasting, natural consistency. TO APPLY: get a small drop of foundation on your fingertip and smooth over entire eye area. This will help create a neutral palette by covering dark circles and adding an even tone. Then, Using a Kabuki brush and Mineral Foundation Make-up, Tap some of the mineral make-up into the cap and dab some on the brush. Tap of excess back into the cap. Move the brush lightly on skin in a circular motion until entire face is covered in a thin, sheer base. Wherever you have uneven skin tone or blemishes you can go over those areas either with a small amount on your fingertip dotted on and smoothed out with the brush, OR brushed on in layers until the desired coverage is achieved. (I use more over blemishes and layer it on my jaw line where I have sun damage. (Do Not use on eye are or it can be drying to your skin).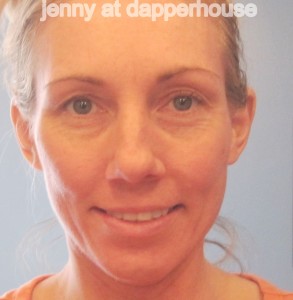 3.) Highlighting - using a brush and light or white powder, you will apply small amounts of concealer to certain areas of your eyes and face where the light naturally touches the face as well as areas that need brightening.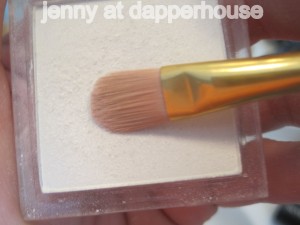 TO APPLY: With a sweeping motion, apply white powder to a medium sized flat brush. Using light pressure, apply the powder to inside eye area, under brows and under the eyes. I like to do a little above my eyebrow arch as well to accentuate this are since my brows are not highly arched. Less is more when doing this highlighting so go back and apply more where needed. This inside corners of the eyes look good with more applied. Also Highlight the top of the cheekbones, the corners of the nostrils on the face, tip of nose and on either side of the bottom lip.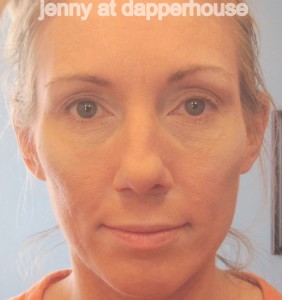 4.) CONTOURING - It is important for me to contour areas that I want to give the illusion of slenderizing, such as the sides of my nose and nostrils; where I want to create emphasis, such as under my cheekbones; and where I want to diminish flaws, such as the wrinkles in the crease of my upper eyelid. TO APPLY: Using a medium brush, use the dark powder sparingly to the above mentioned ares. Be certain to apply lightly and blend well. This will not look good at all if the dark is splotchy, so you will have to get a brand that blends well. You could also try a creme based contour solution.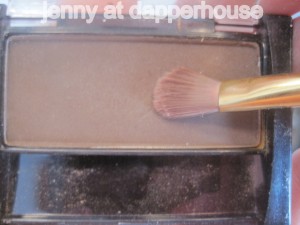 Here is a basic guide of where to apply the highlight and contour.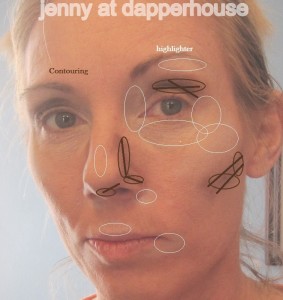 5.) BLEND - Once these are applied, take your foundation kabuki brush and wipe it rapidly and gently over your face until everything is blended together. If the contrast is too great you can use small amounts of mineral foundation on the brush to help it blend! It should look like this next picture (Where you can see the light and dark if you know it is there, but not noticeably drastic.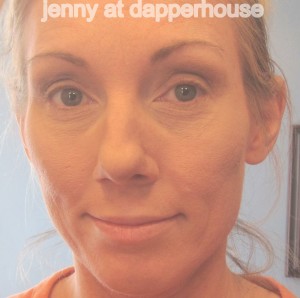 6.) EYES - Use your normal eye shadow palette to complete your eyes. I like to apply a neutral apricot/gold shimmer on my lids and a warm brown blended from the crease out to above and below the crease. Use an eyeliner of your choice to get as near the lash line as possible on the top eyelid. IT can be a bit thicker on the outside edge and get thinner and less thick at the inner corner. On the bottom lid start in the outside corner and go in. Blend this line well and do not go all the way to the inside corner. Leave the inside
corner white.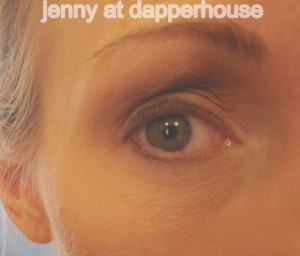 Then Apply a coat of Mascara top and bottom lashes.I like to go over the outside upper lashes with a second coat for a look of fullness. I also like to take a small, flat, stiff brush and fill in the areas of my eyebrow that are sparse or have grey hairs. Use a powder that is as close to or a shade lighter than your eyebrow hair so that they look more natural. You can use the stiff brush to go a bit outside the natural lines of your brows to create the shape and arch that you desire. Just don't put it on too thick or dark.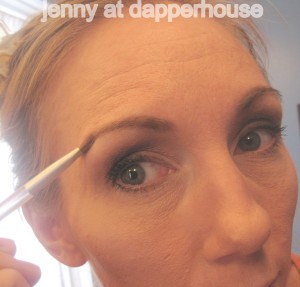 7.) CHEEKS - Using your blusher brush, apply your blush however looks best for the shape of your face or your preference. Many women look great with a blended line of blush between the highlighting and contouring you did in the 3rd and 4th steps. I personally like to use a natural shade of blusher with pink or peach undertones and apply it on the apples of my cheeks while I am smiling. Then I blend it across the bridge of my nose as well. I think this looks more sun kissed in the summer and cold kissed in the winter than a line of blush on the side of my face. I also like to add some color to the sides of my forehead and tip of my
chin making sure that the color is subtle and well blended.
8.) SET THE LOOK - This is the step where if you use a spray or mineral veil to set your make-up you will use it now. You dont "need" this step but products that set your make-up do really work to keep you looking fresher longer. If you don't have this product just freshen up with a light application of oil free powder to set the make-up throughout the day. 9.) LIPS - I like to go by the rule of picking a shade of lip color that closely matches just inside your lip. You may be surprised at how purple you can go, or how dark of a shade you can wear. When you get this color it is a great base shade. I like to get my base shade in a long wearing lip color that stays put all day. Then, I can apply a shimmer, gloss or another shade on top throughout the day as needed. You can see below that mine is just a bit more peach than the inside of my lip so this is my "nude" natural shade. I also have one that is more mauve to wear with pink or blue shades of make-up.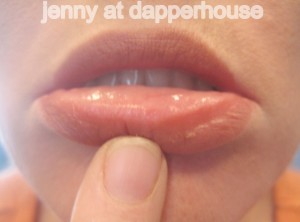 10.) Stand back and inspect your work. You should look at the whole picture rather than the individual areas that you created. All the little tips and tricks by themselves would look ridiculous but when people look at you they see the whole picture, lights and darks and colors all blended perfectly together to create a perfect you! AFTER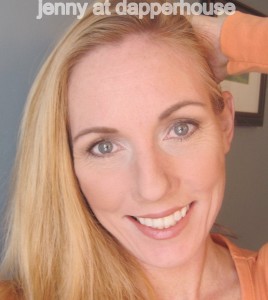 * Remember that you dont have to be a supermodel to look glamorous. And remember that less is more, but if you are going to be out where it is darker you can go more colorful with your eyes and lips and even add some extra sparkle and shine like I love to do. Guest Post by Jen Temcio, owner of
jenny at dapperhouse
where you can find Family Friendly Fun for Moms!